INDIA FOLIO.COM
Your preferred partner for portfolio management in India and the Wild West
Indiafolio.com is the webportal of Ganapathi Consultancy, a portfolio management company in Singapore. Indiafolio.com offered a free "best bet" portfolio for Indian investors which outperformed the SENSEX index by 81% over two years ending August 2010. (comparison report). It also outperformed the CNX Midcap index by 20% in the same time-period. Since then, this portfolio has been liquidated as markets became overvalued. We are now expanding clientele for our next long-only portfolio as we expect the next bull run to begin by early 2013.
About our best best portfolio: Performance of this portfolio was tracked over real time on a weekly basis. Index initial value was set as 100 in December 2008. The value of the portfolio with 100 as a base was used to measure its performance over time. It was same portfolio that Ganapathi Consultancy and Imports followed for its clients who did not have specific investment constraints. Very simply put, this portfolio was our very own best bet portfolio.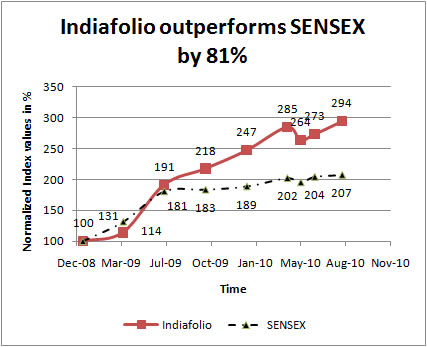 A detailed presentation of our investment methodology that goes into our selection of the companies in our portfolio is given here .

Why did we give it for free?
The portfolio helped us track our own performance over time
As people followed the performance over time, it becane an indication of the quality of the analysis that went into our selection of stocks in the best bet portfolio.
Ultimately, we wanted to do our best to make the people who invested through us or by using this website, reach their investment objectives. This made sure that at least these people are not contributing to market volatility by trading without sufficient knowledge. This we hoped would lead to a more efficient capital market.
Portfolio Management with Indiafolio:
We will arrange a meeting with you to understand your needs, objectives and constraints.
We will custom build your portfolio to your specific objectives and risk profiles.
Well diversified portfolios to minimize systematic risk associated with capital markets.
We do our own investment analysis and go by capital market information and our own research. We don't depend on someone else's opinion but collect facts and do ratio, Dupont and Pro Forma analysis to understand companies and arrive at projections. We are hence not influenced by other fund managers or investment research houses opinion. This makes sure that our view is unbiased.
Ethical investing – We don't hold companies that are in the tobacco and alcohol industries in our portfolio. They maybe cheap valuation wise but they come at a significant cost to the society, so we invest ethically.
Transaction costs are minimized by following a passive investment strategy. This protects gains and minimizes capital gains taxes. This is one of the ideal portfolio management strategies.
A 2% yearly portfolio manager retainer fee is the only recurring cost for clients.

Want to become a client? Contact us by clicking here.